Neil S. Noland
Founder of Noland Farms, Inc.
Neil was born at home in rural Blue Mound to Charles and Ruth Noland.  He attended the University of Illinois majoring in agriculture before returning to farm with his father.  He married Erma Moma, and together farm-raised David, Dianne, Duane and Dennis… a cousin recalls a time a shorthanded Neil claimed he would have a child for every window.  Neil passed following the harvest of 2013… participating in 60 years of farming.  Erma remains an active participant in the family farm.
Dennis J. Noland
President of Noland Farms, Inc.
Dennis, the youngest of the four children, grew up with a wrench and screwdriver in his hand.  Tinkering, fixing and building in the shed was where he spent his childhood.  He continued with this childhood interest and received his Associate Degree in Farm Machinery Technology from Spoon River College in 1982.  After returning to the farm in 1982, he married Dani Meador, a kindergarten teacher.  Together, they enjoy their annual bike vacations throughout the country on their Harley Davidson motorcycle.  Neil's passion of flying is shared by Dennis, a pilot since September of 1982. 
Anyone interested in viewing potential land investments by air or just a sightseeing trip from above could not be in a better set of hands. Dennis provides our farm with valuable mechanical and agronomic expertise.
Cell Phone – (217)433-8947
Email – dennis@nolandfarms.com
N. Duane Noland
Vice President of Noland Farms, Inc.
Duane grew up showing livestock in 4H and participating in Future Farmers of America (FFA).  He graduated from the University of Illinois with a B.S. in Agriculture in 1978 and married his high school sweetheart, Tina Beckett, in 1978.  He began farming with Neil in 1980, became active in Farm Bureau and soon added Grant (1984) and Blake (1987) to the family.  Through involvement in Farm Bureau, he started his
political career, serving as State Representative (1990-1998) and State Senator (1998-2003).  He currently serves as President and CEO of the Association of Illinois Electric Co-ops, aiding on the farm during the Spring and Fall.
Cell Phone – (217)433-2979
Email – duane@nolandfarms.com
Grant A. Noland
Treasurer of Noland Farms, Inc.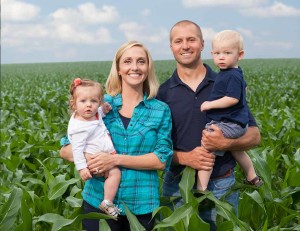 Grant is the oldest of two sons and serves as Treasurer of our family farm.  He graduated from the University of Illinois with a B.S. in Ag-Economics in 2006.  Upon graduation, he worked as a commodity trader and elevator manager for ADM at facilities in Indiana and Illinois.  In the spring of 2009, he began farming and married Logan Hymes, an accountant at ADM.  They are proud parents of Hudson and Elizabeth.  He is a graduate of Cultivating Master Farmers, The Exective Program for Agricultural Producers (TEPAP) and Illinois Ag Leadership Program, and is active with his church, Illinois Corn Growers Association.  His farm responsibilities include day-to-day operations, input purchasing, grain marketing and financial analysis.  A main focus is developing new partnerships and identifying avenues of growth for our family farm.
Cell Phone – (217)433-8084
Email – grant@nolandfarms.com